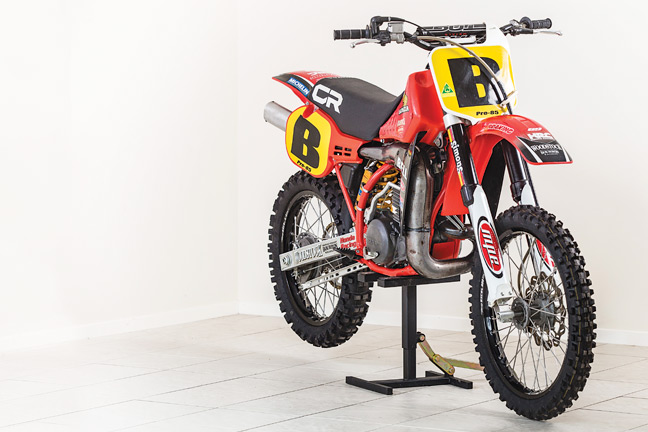 BIKE DISSECTED: 1984 HONDA CR500RE
Words: Martin Child | Photos: iKapture
Glen Bell isn't your average motocross legend. And Geoff Holmes isn't your average bike collector. And this 1984 Honda CR500RE, which links them together, certainly isn't your average Pre-85 race bike.
When somebody tells you they've downsized their motorcycle collection, you'd be forgiven for thinking that maybe two bikes have now taken the space previously reserved for three. I mean, you surely can't ride any more than a couple of bikes, right? But collectors, and I mean real collectors, don't think that way. They think in terms of multiples, rarity and of having "contacts" worldwide.
So when Geoff Holmes starts talking of his collection, you know it's not a couple of shagged-out 250s and a PeeWee. "I cut the numbers a few years back after my hobby was costing me every cent I had," the Brisbane panel shop owner freely admits. "Now I just have 15 bikes, which is certainly easier on the pocket than the 50 I once had." And if this '84 CR500 is anything to go by, that must be a real schmick selection of a collection.
Sourced from America, "because there's a much wider choice of low-hour bikes over there," this bike was run for a couple of seasons and then stored. Geoff purchased the bike in '08 with the express intent to turn it into the best Pre-1985 race bike for his long-time mate, training partner and somewhat handy on a Honda (12-time national champion), Glen Bell. He might only ride it four times a year, but Belly has yet to be beaten on this trick CR. Here's the nuts and bolts behind the beast…
Note: Since originally publishing this article in Transmoto Issue #30, Holmes has sold this bike to a bloke residing in NSW…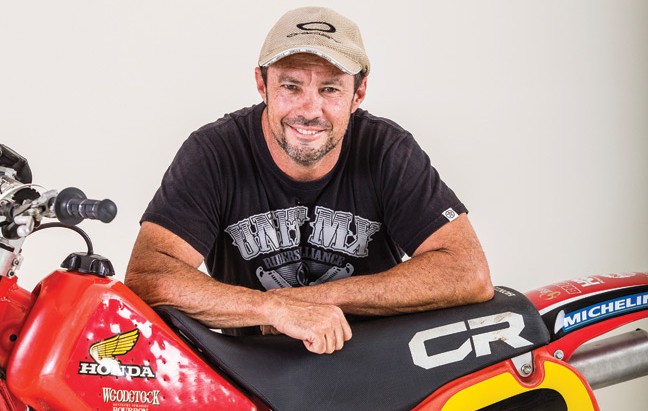 ENGINE & GEARBOX
Buying the US low-hour bike paid dividends when the cases were split open for inspection. Not only was the top-end in fine shape, it was still on its 89mm standard bore. Geoff played around with a couple of Pro Circuit heads (hey, he's a collector so he had these heads just lying around…), but ended up fitting the standard head back on. A couple of slightly worn gears were replaced, along with every bearing, seal and gasket. The cases and top-end were sand-blasted and painted to match the factory spec.
COCKPIT
The aim was to make the Pre-85 bike feel like a modern machine. The cockpit layout has changed from the standard's pulled-back bar mounts and welded handlebars to straight mounts and fat bars. This increases the distance between seat and bars for more "workspace" and they're complemented by modern grips and lighter controls (an '07 CR125 clutch cable lightens the lever pull). An up-rated seat foam has been cut down at the back and lengthened at its intersection with the tank to allow a more modern riding technique and to look less brick-like.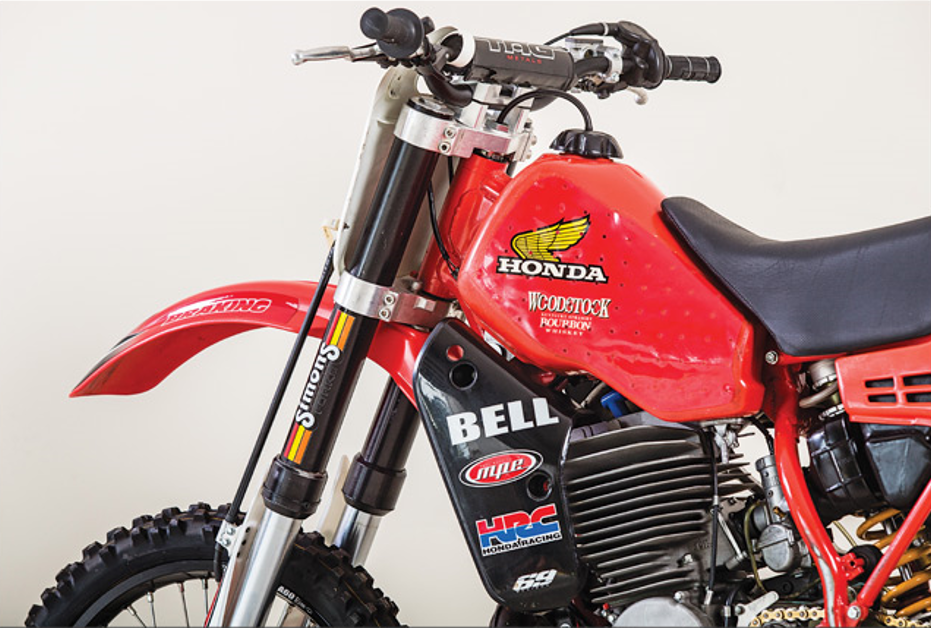 WHEELS & TYRES
Brand new genuine hubs were sourced, as there was a tendency for wear on these items. Like the engine cases, the hubs were sand-blasted before being laced to stainless steel spokes and then to the Excel A60 black rims. A 19-inch rear replaced the standard 18-incher, allowing Glen a wider selection of competition tyre options. Dunlop got the task of transferring the 500's mighty horsepower to the track.
BRAKES
Apart from an overhaul kit being fitted, the braking system remains Orwellian – ie, 1984. The only change has been the fitment of a wave front disc, but that's just about to be swapped for a circular original. This is mainly due to complaints from certain other Pre-85 riders about this non-period mod. It was until 1987 that Honda fitted a rear disc, so the drum brake had to stay. Even properly set-up, the drum is still as bad as you'd think!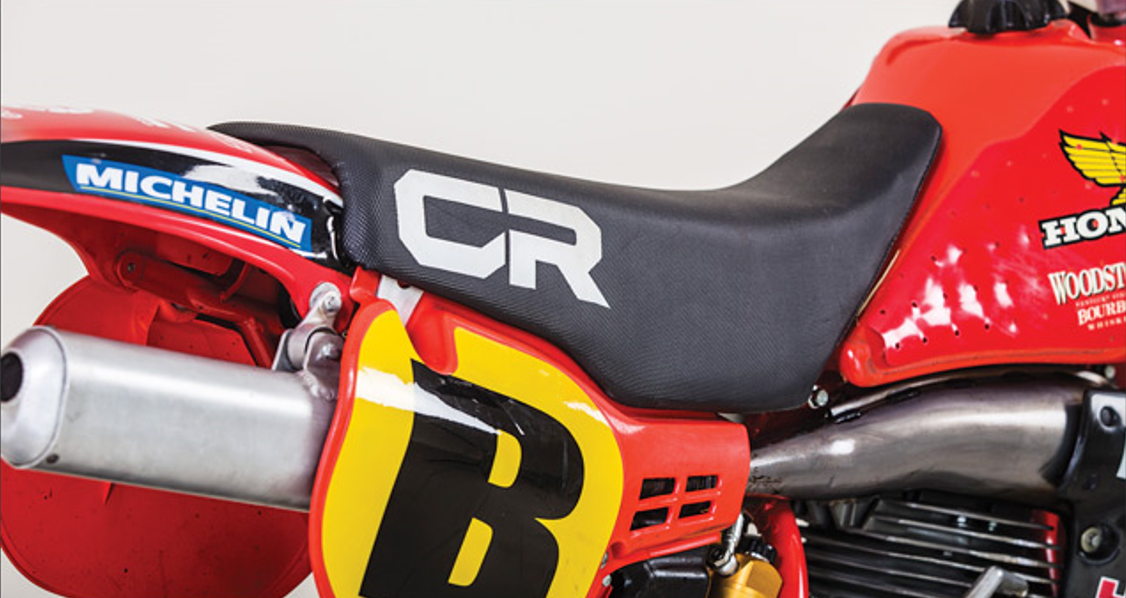 BODYWORK
Genuine plastics are used throughout (but it's possible to buy just about every part for this bike reproduced) as their quality and colour match are superior. An '89 rear guard matches the set mods better and smartens the rear, while the graphics kit is from 2008 and gives the bike a more modern look.
SUSPENSION
50mm Simons upside-down forks were light-years ahead of the rest and this set have a special history (see sidebar). Modified KX500 protectors cover the chrome sliders that originally had no protection. The alloy triple clamps are period, too. At the rear, an Öhlins shock firms like the notoriously soft original Honda part never could. Even though the Öhlins design is from the 1980s, it's a brand-new unit and the suspension package is one of the standout modifications to the CR. Fork offset and swingarm length remain standard.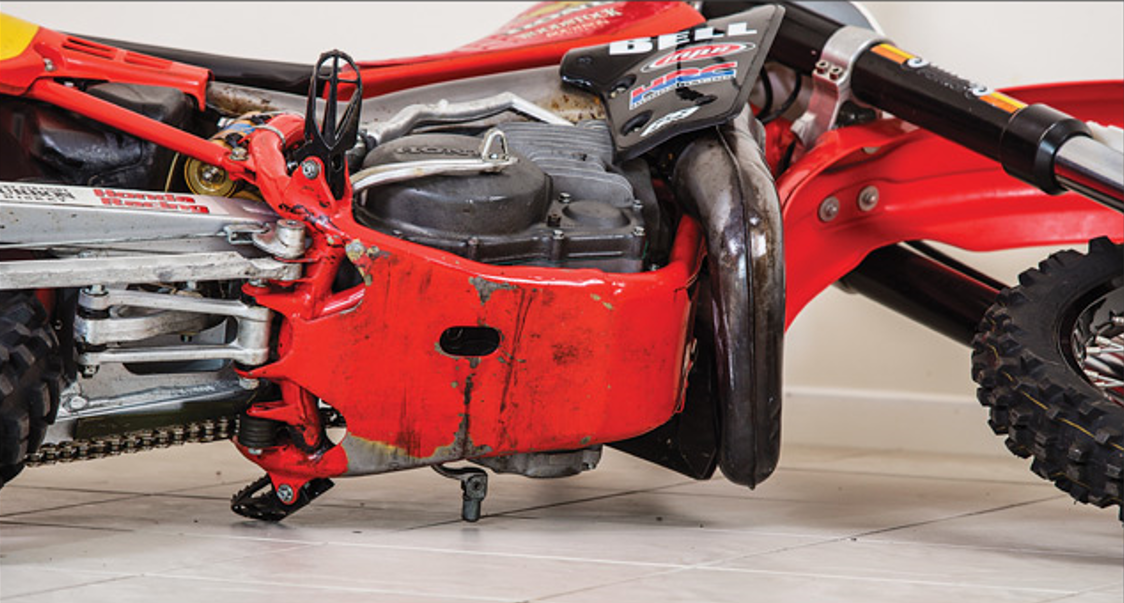 CHASSIS
The bike was stripped to its base components and the frame didn't escape the improvement regime. It was stitch-welded to add strength and then a metal bashplate/strengthener was added to cradle
the underside of the two-stroke donk. To add to the modern feel of the bike, CRF450R footpeg mounts were added to the frame so that fatter pegs could be used. The modified frame then received 2-Pack paint and an oven bake for a more durable finish.
EXHAUST
As well as trying the Pro Circuit heads, the pair experimented with a Pro Circuit expansion chamber. While great for a wild top-end, the system sacrificed low-down grunt and it was while they were trying to jet to improve this situation that they reverted back to using the standard expansion chamber and an Arrow muffler. The jetting was spot-on for this combo so the PC pipe and heads became doorstops . A 14/48 final gear ratio (14/50 std) offers a wide and usable powerband over each of its five ratios.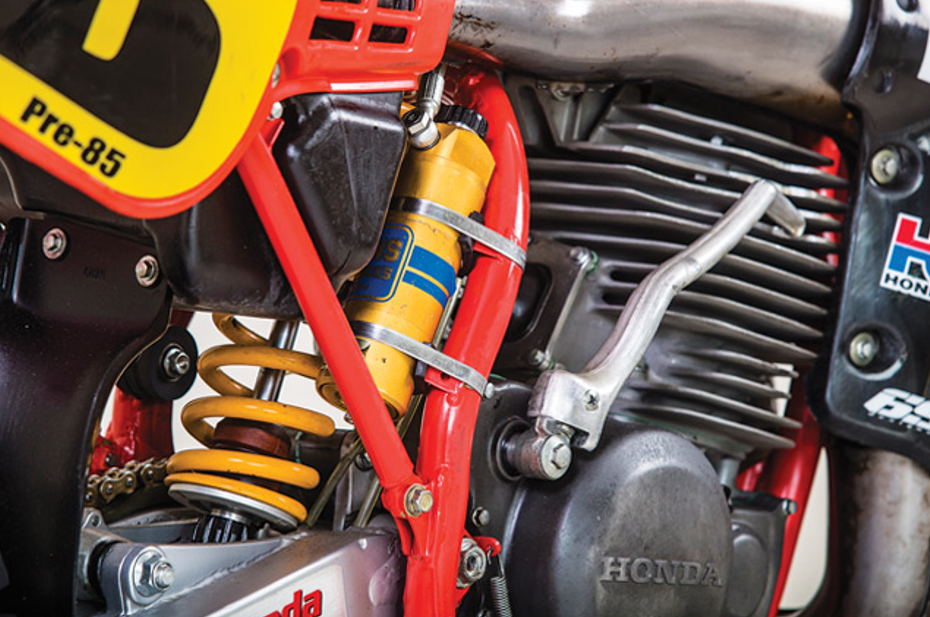 BUILDING THE BIKE – GEOFF HOLMES
It took about eight weeks to piece this bike together. I've done so many restos now that I have the order in which to attack them sorted. Every bike has a story behind it and this was no different. Glen and myself were talking about the rebuild one night and we had a picture of his Yamaha YZ race bike from back in the day. Standing out were the massive Simons forks that were fitted, so I asked him what happened to them. His then mechanic, Frank Pons, had removed the forks when White Power (now WP, to keep the PCs happy) suspension sponsored Glen. Glen picked up the phone and put the "What happened to…" question to Frank. After about 10 minutes of tools and boxes being shifted, Frank found the forks under his workbench. We were blown away. They were still wearing the alloy yokes. Frank was going to send them, but I insisted that I picked them in person – they're worth around $US4000 now (Glen paid $800 for them back in '84). It's a nice touch that makes a great bike even more special, and links two periods of Glen's racing career together".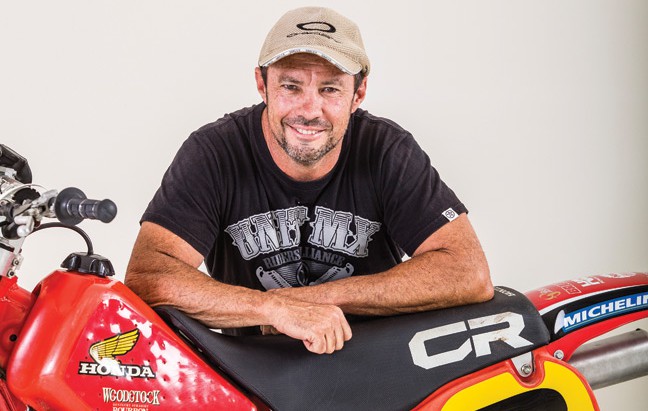 FROM THE SADDLE – GLEN BELL
This is a great bike to ride – as long as that's on the right track. Even with the suspension and ergonomic mods, you can't ride it like a modern bike over a SX-type track. The biggest problem is obviously the brakes. The front disc is just about okay, but you can't abuse the rear drum at all. If it gets hot, it just stops stopping – period. These big-bore two-bangers have a reputation as animals and you really don't want to jet them too lean – that just makes them angrier! The suspension's pretty good. I managed to bend the rods in the Simons forks when I had them on my YZ back in the day. MPE rebuilt and modified them, so now that's not a concern. Strong points are how well the bike turns and the modern feel at the bars due to the fat bars and late-model levers. The wider footpegs make me wonder how we rode the spindly-pegged originals back then. I've won every time out on this bike and it's a fun series to race in. Lining up with 30 other Pre-85 bikes is quite a spectacle, even for the racers. The interest in this series has pushed the value of a bike like this to around the $12K mark."